***
Today we welcome Writer and Director Nicole Ayers to shed a bit of her own personal light on the Indie path.
Take it away, Nicole :-)
***
Upon receiving my first camcorder in high school, it would be fair to predict that I might become an investigative reporter or documentary filmmaker. Having completed writing a feature length screenplay long before my 16
th
birthday, however, there were more commercial aspirations in store for me. I had my sights set on golden statues and seven-figure paychecks for directing summer blockbusters like "Jurassic Park." There was just one problem: I didn't exactly know how to get from point A -- being a high school senior with big (albeit, somewhat naïve) dreams of making movies to point B -- being one of Hollywood's
top
directors.
Making films independently outside of Hollywood has become the solution to this problem, giving me the satisfaction of bringing a script to life without being stuck in years of development hell and corporate red tape – an option that aspiring writers may want to consider for novels or works of non-fiction. Here are some benefits I've found in choosing an indie film route that can work to a writer's advantage when pursuing your dream of being published.
As an indie filmmaker, I don't have to wait in line, cross my fingers and hope that somebody gives me the green-light and a chance to direct movies. Plus, I believe it would be silly of me to call myself a "director" without having actually directed something. While finding projects to work on has come fairly easy since I write my own screenplays, I've also directed a short film for a fellow writer. None of these opportunities required me to seek permission from a large studio.
Similarly, as a writer, you already have the material needed to create books or magazines that people are willing to read. The indie route puts all the power in your hands, where making it available to these audiences is concerned. You can either decide to watch from the sidelines, as indie writers release their books while you wait for the publishing company of your dreams to grant you permission to do the same. Or, you can take charge of the direction in which your dreams will come true and challenge the publishers to catch up to speed.
I realized that it would cost me a lot of time and money trying to be a carbon copy of Steven Spielberg. However, if I could make something that people want to watch -- the way Robert Rodriguez did with "El Mariachi" or the way Joe Swanberg did with "
Kissing on the Mouth
" -- then I don't need to depend on a studio to go into production. I am not limited to hustling in California, nor the pressures of accepting unsavory distribution deals just to pay back millions of dollars to investors. Indie budgets are usually small, offering a chance to turn a profit sooner than later. The VOD, streaming and print-on-demand markets also make it easier to reduce marketing and distribution expenses.
You can use the low cost of entry that an indie route offers, to release your first book in a small press run and build an audience. This opens up options for your subsequent works because you can weigh potential results of any future publishing offers against the response that you've received so far, from a built-in reader base. Becoming an indie publisher gives you the option of going direct to your audience or giving it up to a larger company. In either scenario, you must have something to release!
Studying the success of other indie filmmakers helps me realize that I can carve out my own path with a bit of creativity and hard work. Short film director Fritz Donnelly sold thousands of DVDs featuring several of his works and he even released a sequel that did very well. His films were also exhibited at many venues in New York. Filmmakers Todd Sklar and Jay Craven
took their films on tour
, the way musicians do, which led to them gaining press in local markets. Both Craven and Sklar were able to keep all of the profits while also building an email list of fans that are eager to learn about the release of their next projects. Skylar's success has also enabled him to get distribution deals for his films.
Look at success stories within and beyond the literary world to find useful tips for trying to market your own work. Inspiration can be had by paying attention to trends in music, art and the creative book release strategies of self-published artists. A few years ago, I interviewed an author named Lakeshia Rivers Ekeigwe whose self-published book, "
The Truth about Being Single
" was launched through intimate
ladies night
themed parties. In addition to giving her a growing fan-base, this book has become a launch pad for her personal development coaching business. Her strides in book sales as well as in the coaching business is a testament to the fact that an indie route can move you closer to living your writing dreams, on your own terms – so long as you're
open to new ideas
and opportunities.
In school, filmmakers are taught that the path to directing movies is getting a job as an assistant and then working our way up to eventually getting the chance to helm one of the large Hollywood studio pictures. Studying independent filmmakers such as The Duplass Brothers and
Maggie Hadleigh-West
, however, has helped me realize that the path to making movies is – making them – which sometimes mean bucking the mainstream system! So, that is just what I've ended up doing and it has led me to winning a golden statue, of sorts, at the very first film festival that I ever attended as a director. It has also helped me receive movie writing assignments from large media outlets, learn about great films that are not playing at a theater near you, and develop projects about topics that I care about – on my own terms!
Who are the indie authors inspiring YOU these days?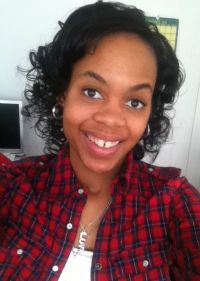 Nicole Ayers is the writer and director of "Abyss," a dramatic narrative about the troubles surrounding a marriage proposal that leaves an Army Officer stranded at a bus stop in Philadelphia. "Abyss" is currently raising funds for the film festival and television premieres…your contribution will make this happen!