Nicole comes back to visit because I was curious and she let me
hassle
harass
engage her for a second post about her inspiration for Abyss. She's such a sweetie!!
Take it away, Nicole~~~
In the winter of 2011, I wrote an outline for a short film screenplay intended to be produced into an entry for "Philadelphia Stories" – a television series that aired on WYBE (now MiND TV) for years. Writing articles had become my new profession for some time and I just wanted to recharge my creative batteries and find out if the TV station would acquire one of my films. The series was only open to projects that are
set primarily in the Greater Philadelphia, PA region
– with special consideration given to local independent filmmakers.
These basic guidelines aren't difficult to follow, except, there wasn't anything particularly special about the City of Brotherly Love and Sisterly Affection that stood out to me. So, I went in the opposite direction and decided to find a subject that would be relatable while also adhering to the hometown roots of WYBE/MiND TV's television contest – SEPTA. I loathe this public transportation system that services Philadelphia and surrounding counties, which became the perfect focal point of my outline. I didn't want to make a documentary, so I added a relationship element to it for a dramatic effect that people could relate to regardless of whether they were car owners, taxi-cab hoppers or bus riders.
R&B singer The Dream's "Love King" album was in heavy rotation on my iPod around this time – including one track that became the force behind the title and relationship drama in my movie – "
Abyss
." It plays like a scorned-lover song and the hook makes me think about someone drowning in tears as an Ex-person of interest renders her heart as being practically non-existent. The TV station's January 31
st
deadline was less than 30 days away and I knew it would be insane to try and write an entire script, get actors and produce this project within that short time-frame Procrastination set in and I
sat on that outline for a year
. In those 12 months that rolled by, the "Philadelphia Stories" series ceased operation and I started to ask myself if this movie was worth making anymore.
The script suddenly wasn't that exciting but neither was life, on many levels. I worked on a few pages -- writing scenes here and there based on that outline, but I had no sense of direction where the movie was concerned, my career goals or the next waking moment, for that matter. That's when a friend made me realize that I needed to stop hoping, wondering, second-guessing myself and most importantly – talking – and just go ahead and make a movie, already! The story didn't even have to be about public transportation or relationships – so long as I was taking actions as a filmmaker rather than talking about being one. I didn't want to go back to square one, given that I already had an outline and a good idea of how the first few scenes in the screenplay were going to unfold.
Plus, I think many people – no matter where they live – can relate to the frustrations of being stranded, whether that be on a sidewalk, at an airport, on the highway or at sea. I was also still not fond of SEPTA and by now, they were being cited as the
#1 public transportation system in North America
– a title that is mind-boggling given their frequent delays, limited customer service, detours without notifications, greed and overall disregard for the treatment of their passengers. In the Spring of 2012, I started working on the script again and had several major bouts of writer's block that were often met with an internal urgency to just get it done and over with so that I could move into production. When I thought the story was good enough to be made into an
ok
movie, the same friend who challenged me to get the ball rolling before suggested that changing my outlook and approach would bring better results. I'm glad that I listened and applied these points to writing a more improved script for this particular story.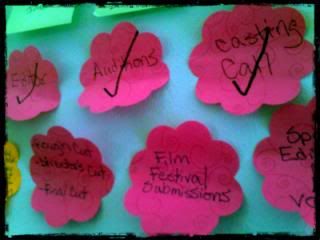 The writing process took much longer than I preferred but what followed, after multiple drafts, is a screenplay that I could be proud to direct. Thanks to feedback from less than a handful of select people whom I trusted to read the first drafts, I now had a completed script to work from. The story is no longer just about a bus and relationships – it's about friendship, loyalty, trust and what happens when the very things and/or people you depend show surprising sides of themselves. Most of the action is specifically written to be seen from the viewpoint of a camera operator because 16mm film stock is expensive. I built the story in a way that could work to the advantage of my shooting with HD video. Pre-production began in August of 2012 and I mapped out my master movie-making plan in baby steps, using post-it notes that I put up on a wall.
(Post It Notes! I love it!!! Oops, sorry for the intrusion, back to you, Nicole.)
Checking off each "step" as I completed it was the only way that I could foresee accomplishing one big goal and also the only practice that probably kept me from losing my mind in the process. These mini-goals also kept my multitasking habits at bay and prevented me from putting the cart before the horse – they were easy reminders that I had no business looking at film festival submission dates if the casting call wasn't even done, and so forth. I didn't hire an editor until I finished shooting and I didn't audition actors until I had an idea of when and where I was going to shoot. After months of writing and planning the next stages of what seemed like a
never-ending screenplay
, I finally found some actors who work well together and production began in November 2012. I involved more people than I'm used to and delegated more departments and jobs than I'm used to but as "
Abyss
" currently moves through the post-production stage, I believe it wouldn't have been better any other way.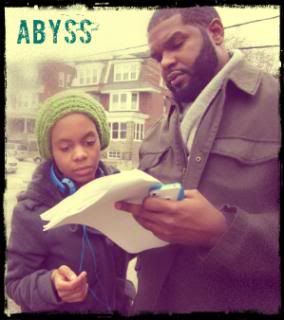 At the time of this writing for Pursuit of Publishness, I am just starting to realize an irony in my own pursuits with regards to how the story behind "Abyss" unfolds. Here is a movie -- about a guy trying to win a contest -- written by a filmmaker who was also, at one point, trying to win a contest. After reading lines at a casting call in October 2012, one of the actresses who auditioned for a role in "Abyss" asked me if the bus was a metaphor for the protagonist's relationship woes. I didn't have an answer for her that day because there weren't any metaphors deliberately placed in the script.
Maybe she's onto something that can be likened to this whole experience of pursuing our dreams and making them a reality. If the bus you're waiting for to move toward your destination hasn't arrived, you can continue to wait -- or you can call a taxi-cab, hitch a ride, take the train, walk – or catch another route! Either way, don't let anyone's failure to deliver on their end of the service deal stay in the way of getting to wherever it is you need to go.
What detours or delays have YOU encountered on the way to YOUR destination?
*** In honor of my film campaign's "Secret Saturdays" special, I'm giving away a copy of the Abyss script to any Pursuit of Publishness reader who donates to the movie. As the script contains explicit language, you can alternatively, opt for a different item – "My Journey to Bare Bones," a letter chronicling my very first film festival experience. ***
Nicole Ayers is a writer and director whose latest work includes "Abyss," a short film about an Army Officer who gets stranded at a bus stop in Philadelphia after his marriage proposal goes awry. Abyss is currently raising funds on IndieGoGo for the film festival and television premieres…your contribution will make this happen!